Greece improves its innovation performance - Region of Crete one of the regional 'pockets of excellence' in Europe
Entry date: 24/06/2019
According to recent European Commission data on innovation in the EU Member States (European Innovation Scoreboard 2019 - European Innovation Scoreboard 2019), Greece's innovation index stands at 81.6, ranking the country in the 20th place among the 28 European countries.
Based on their scores on a series of key indicators (research, innovation, finance, human resources, intellectual property, entrepreneurship, etc.), EU countries fall into four performance groups: innovation leaders, strong innovators, moderate innovators and modest innovators. Leaders in innovation are mainly Scandinavian countries, while Greece remains in the moderate innovator group of countries.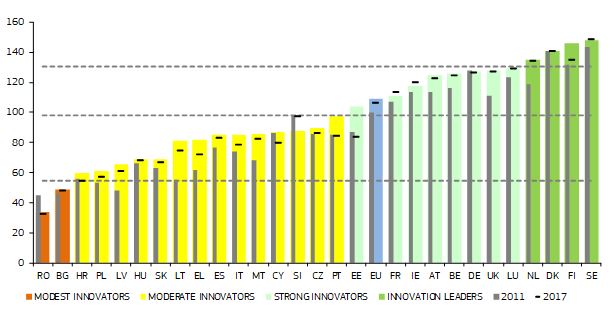 European Innovation Scoreboard country ranking. Coloured columns show innovation performance in 2018, horizontal hyphens show performance in 2017, and grey columns show performance in 2011, all relative to the EU average in 2011.
Over the last nine years (2010-2018), however, Greece has been continually improving, gradually increasing its innovation performance from 61 in 2011 to nearly 82 in 2018, as illustrated in the chart below.
Greece's "strong" & "weak" traits
More analytically, Greece has a particularly positive performance in indicators related with "Innovators" and "Linkages" dimensions, even exceeding the European average. It is noted that these indicators are constantly increasing over the recent years, according to data from previous European Innovation Scoreboards.
On the contrary, intellectual assets, Innovation-friendly environment and finance and support are the weakest innovation dimensions. Greece's lowest indicator scores are for Foreign doctorate students, Medium and high-tech product exports, and Venture capital expenditures.
Crete: a strong innovator
Excellent performance in the field of innovation is recorded by the region of Crete, which, according to the Regional Innovation Scoreboard (RIS), is one of the few 'pockets of excellence', and belongs to the group of the strong innovators, with an innovation index reaching the European average (94.4).
Crete is a region with strong performance, due to the number of small and medium-sized enterprises that innovate, research funds from public funds, the development and marketing of new innovative products, and the cooperation of small and medium-sized enterprises with knowledge intensive companies.
Sources:
http://europa.eu/rapid/press-release_IP-19-2991_en.htm
https://ec.europa.eu/growth/industry/innovation/facts-figures/regional_en
https://ec.europa.eu/docsroom/documents/35893/attachments/1/translations/en/renditions/native
https://ec.europa.eu/growth/sites/growth/files/ris2019.pdf